Bio-ADM, the biomarker for endothelial function
In critical conditions, one of the main causes of organ failure and subsequent mortality is loss of endothelial function, which is associated with leakage of blood vessels. Although the symptoms of loss of endothelial functions are well-known, there are currently no simple, blood-based detection methods established for monitoring the worsening and improvement of endothelial function. Bioactive Adrenomedullin 1-52 (bio-ADM*) is a dynamic blood biomarker for the real-time assessment of endothelial function, even before the symptoms become visible (1). Regular assessment of the bio-ADM blood levels allows for the monitoring of critically ill patients.
The biomarker bio-ADM is convincing in clinical research:
Elevated bio-ADM blood levels predict both blood pressure drop resulting in shock as well as leaky blood vessels leading to the formation of edema [1a]. Decreasing levels of bio-ADM reflect an improvement of the endothelial function, which is closely associated with the patient's clinical condition [1b] (7).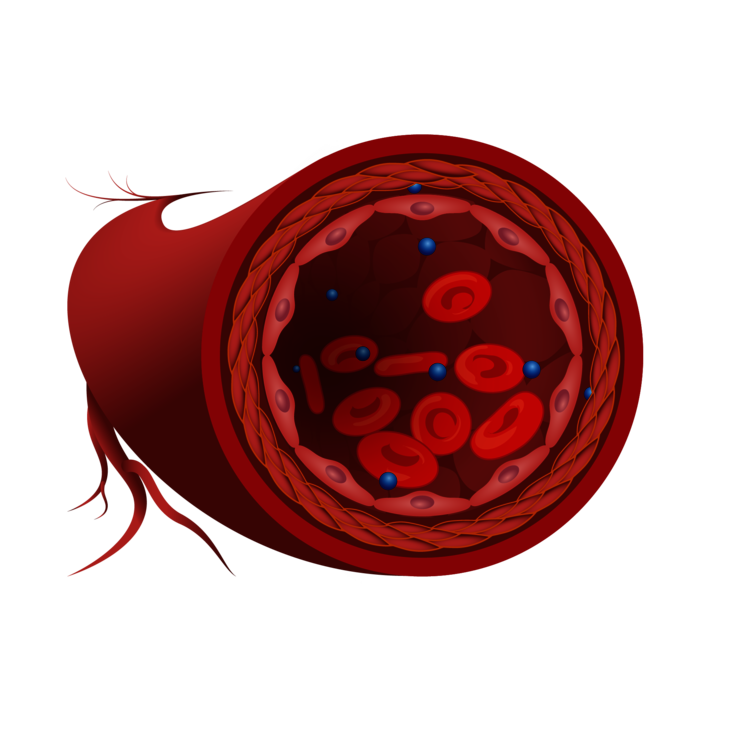 Research has identified bioactive Adrenomedullin as a controlling hormone of the endothelial barrier, the interior wall protecting the blood vessels.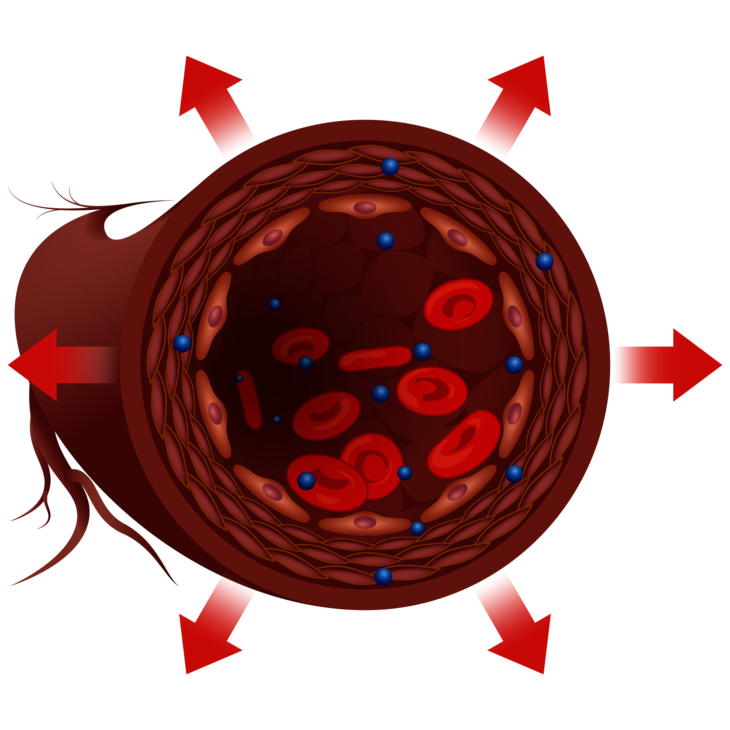 In certain conditions such as sepsis (1), cardiogenic shock (9) or acute heart failure (8), the endothelial barrier becomes leaky, and additional bio-ADM is produced to re-seal it. However, bio-ADM has a second function. It also expands the blood vessels, resulting in a dangerous blood pressure drop, which contributes to the development of shock and may ultimately escalate into multiple organ failure.
The whitepaper covers practical insights on the novel biomarker for dynamic monitoring of endothelial function in acute and critical care patients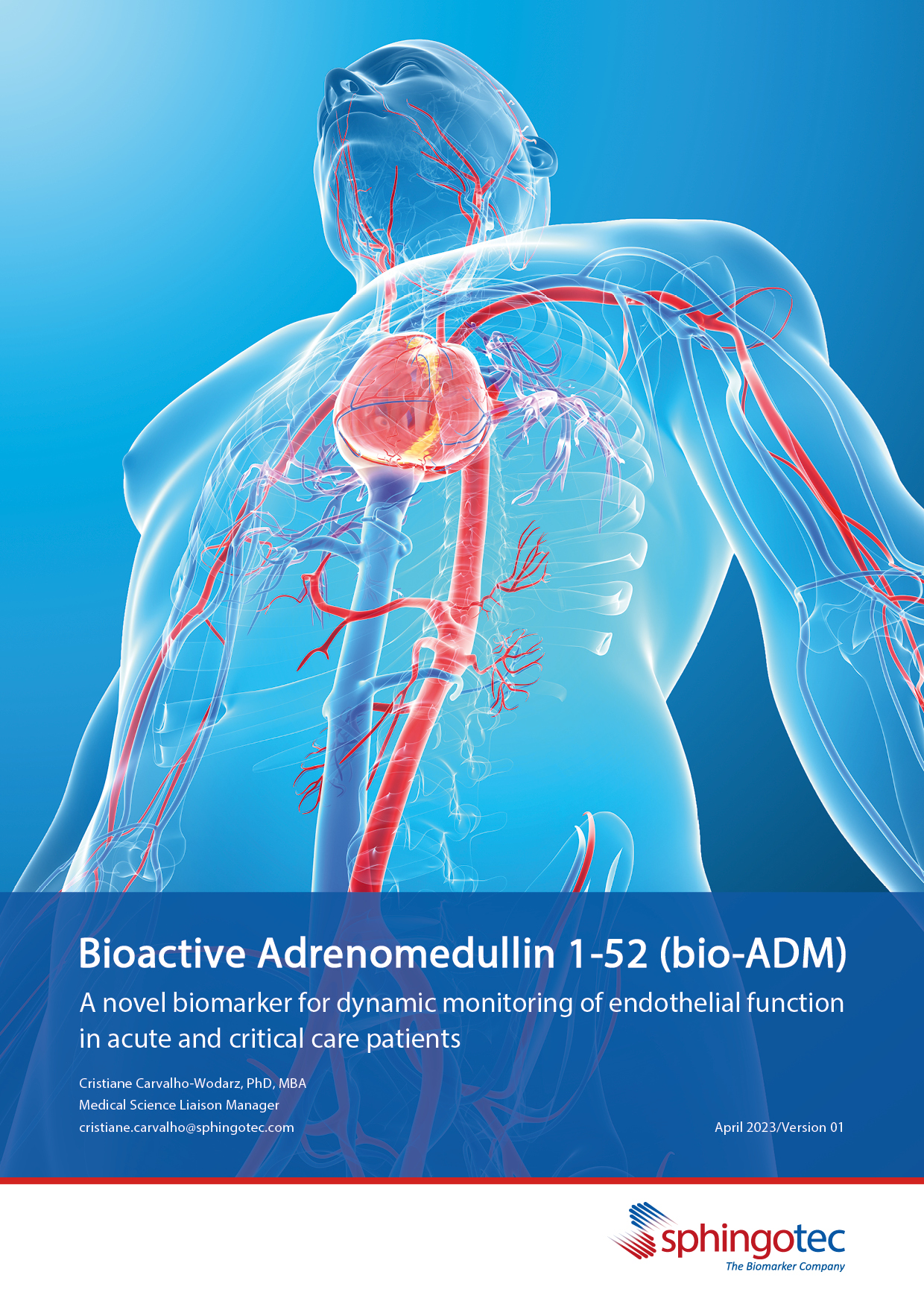 Sphingotest® penKid®, sphingotest® bio-ADM®, sphingotest® DPP3 are offered for in vitro diagnostics. "penKid", "bio-ADM" and "DPP3" represent the analytes Proenkephalin A 119-159, bioactive Adrenomedullin 1-52, and Dipeptidyl Peptidase 3, respectively.
(1) Geven et al. (2018), Vascular effects of adrenomedullin and the anti-adrenomedullin antibody adrecizumab in sepsis, Shock.
View the paper
(2) Pandhi et al. (2020), Clinical value of pre-discharge bio-adrenomedullin as a marker of residual congestion and high risk of heart failure hospital readmission. Eur J Heart Fail.
View the paper
(3) Kremer et al. (2018), Bio-adrenomedullin as a potential quick, reliable, and objective marker of congestion in heart failure. Eur J Heart Fail.
View the paper
(4) Molvin et al. (2019), Bioactive adrenomedullin, proenkephalin A and clinical outcomes in an acute heart failure setting. Open Heart.
View the paper
(5) Voors et al. (2019), Adrenomedullin in heart failure: pathophysiology and therapeutic application. Eur J Heart Fail.
View the paper
(6) Caironi et al. (2017), Circulating Biologically Active Adrenomedullin (bio-ADM) Predicts Hemodynamic Support Requirement and Mortality During Sepsis. Chest.
View the paper

(7) Mebazaa et al. (2018), AdrenOSS-1 study investigators. Circulating adrenomedullin estimates survival and reversibility of organ failure in sepsis: the prospective observational multinational Adrenomedullin and Outcome in Sepsis and Septic Shock-1 (AdrenOSS-1) study. Crit Care.
View the paper
(8) Ter Maaten et al. (2019), Bio-adrenomedullin as a marker of congestion in patients with new-onset and worsening heart failure, Eur J Heart Fail.
View the paper
(9) Tolpannen et al. (2017), Adrenomedullin - a marker of impaired hemodynamics, organ dysfunction, and poor prognosis in cardiogenic shock, Ann Intensive Care.
View the paper