Clinical Evaluation Programs
With the mission of improving patient management in critical care settings, SphingoTec has started a series of collaboration with internationally leading academic and non-academic medical centers. The main goal of these collaborations is to evaluate the novel biomarkers in the clinical routine.
---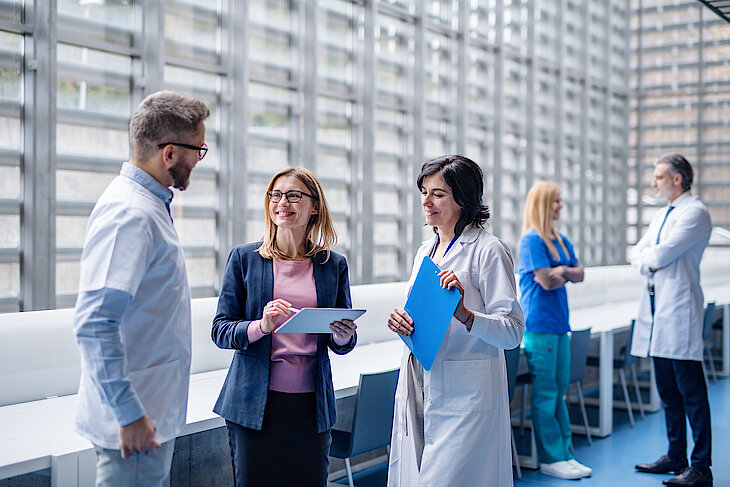 Shedding light on the blind spots in disease progression
With the help of our biomarkers, clinicians can now assess the etiology of clinical symptoms in critical care settings providing them with objective tools to understand the patient's disease state and take informed decisions.
The biomarkers include:
The collaboration with the medical centers is supported by a dedicated team of Medical Science Liaison Managers that work closely together with the local clinicians in understanding the clinical utility and actionability of our novel biomarkers. The collaboration also benefits from skilled technical assistance and training for the implementation of our biomarker tests in the hospital laboratory or at the point-of-care analyzer.
What you can expect from our clinical evaluation program:
1. Evaluations customized to your needs
In close interaction, we develop an evaluation plan that aims at learning more about the utility of our biomarkers in certain use cases relevant for your clinical practice. Together, we decide on questions we would like to address, success criteria and timelines.
2. Fast and efficient biomarker assay implementation
The technical set-up of our point-of-care analyzer is uncomplicated and fast. Our technical team will provide a concise but effective training for you and your colleagues to allow for a swift start of an evaluation project.
3. Comprehensive medical and scientific training
As the evaluation aims to understand the utility of our biomarkers in clinical practice, we provide and/or support any medical and scientific training required to get your colleagues and nursing and laboratory staff on board.
4. Your experience counts
The key objective of an evaluation is to provide you with first-hand experience on the utility of our biomarkers in your daily routine. Other than with clinical studies, the evaluations are performed with CE-IVD certified products and we do not expect you to provide documentation on individual patients. However, we will regularly review the progress of the evaluations and would appreciate to learn about your experiences and observations during such reviews.
5. Creating impact
Once the evaluation ends, we'd like to review the impact of our biomarkers on your clinical practice and – if we could convince you on their value - decide on next steps to make tests routinely available at your institution.
Sphingotest® penKid®, sphingotest® bio-ADM®, sphingotest® DPP3 are offered for in vitro diagnostics. "penKid", "bio-ADM" and "DPP3" represent the analytes Proenkephalin A 119-159, bioactive Adrenomedullin 1-52, and Dipeptidyl Peptidase 3, respectively.