Rapid point of care testing with the Nexus IB10 Analyzer
Point of care (POC) testing significantly reduces the time that passes between clinical tests and the results readiness. Nexus IB10 is a compact, easy to use and fully automated POC device for acurate diagnostics of critically ill patients. Using whole blood samples, the tests results are ready in 20 minutes and can be printed or sent directly to the laboratory information system. By simplifying the testing process, clinicians can focus on what matters most: Effective, quality patient care.
Whole Blood use
No sample preparation needed
Time to result 20 minutes
with hands-on time under 3 minutes
Panel Tests
Up to three analytes tested in a single run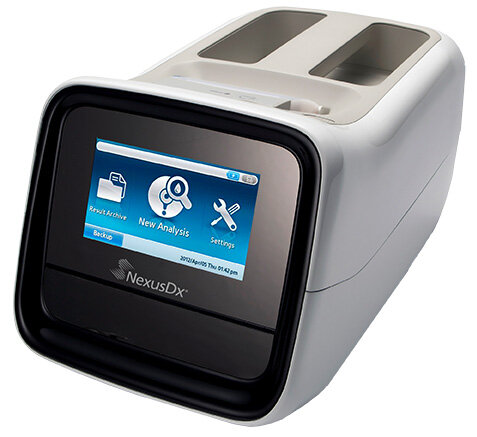 Fast & fully automated
Built-in self-test feature to minimize hands-on maintenance
Portable & user friendly
Compact and easy to move with minimal user interaction
Quantitiative Results
Results can be printed or directly transferred to LIMS
Catalog Nr.
Description
IVR-IB62
IB10 sphingotest® penKid®
Proenkephalin
Read more
IVR-IB61
IB10 sphingotest® bio-ADM®
bioactive Adrenomedullin
Read more
IVR-IB58
IB10 sphingotest® DPP3
Dipeptidyl Peptidase 3
Read more
IVR-IB65
IB10 sphingotest® PCT
Procalcitonin
Read more
IVR-IB50
IB10 sphingotest® Troponin-99
Troponin I
Read more
IVR-IB52
IB10 sphingotest® D-Dimer
D-Dimer
Read more
Catalog Nr.
Description
IVR-IB56
IB10 sphingotest® NT-proBNP
NT-proBNP
Read more
IVR-IB53
IB10 sphingotest® Shortness of Breath
D-Dimer, NT-proBNP, Troponin I
Read more
IVR-IB51
IB10 sphingotest® 3-in-1 Cardiac
Troponin I, CK-MB, Myoglobin
Read more
IVR-IB55
IB10 sphingotest® TSH
TSH
Read more
IVR-IB54
IB10 sphingotest® beta-hCG
beta-hCG
Read more
NOT AVAILABLE FOR SALE IN THE U.S.
| Feature | Description |
| --- | --- |
| Display | 109 mm Touch LCD Screen |
| Method | One Step Sandwich Reaction |
| Sample Type | Whole Blood and Plasma |
| Sample Volume | 500 μL |
| Printer | Built-in Thermal Printer |
| Feature | Description |
| --- | --- |
| Options | Barcode Reader |
| Time to Result | 20 min* |
| Interface | PC, LIMS |
| Dimension (mm) | 175 (W) x 330 (D) x 180 (H) |
| Weight | 2.4 kg |
* For IB10 sphingotest® DPP3 the time to result is 22 minutes.
---
Point-of-care diagnostics made easy
Watch our short video tutorial and get more information and insight on our rapid point-of-care platform Nexus IB10. Learn in only one and a half minutes how the easy-to-use platform provides test results in only 20 minutes for biomarkers that are crucial in the management of critical care patients.
Are you a customer or distributor of Nexus IB10? See our full list of IB10 products and stock up your IB10 supply.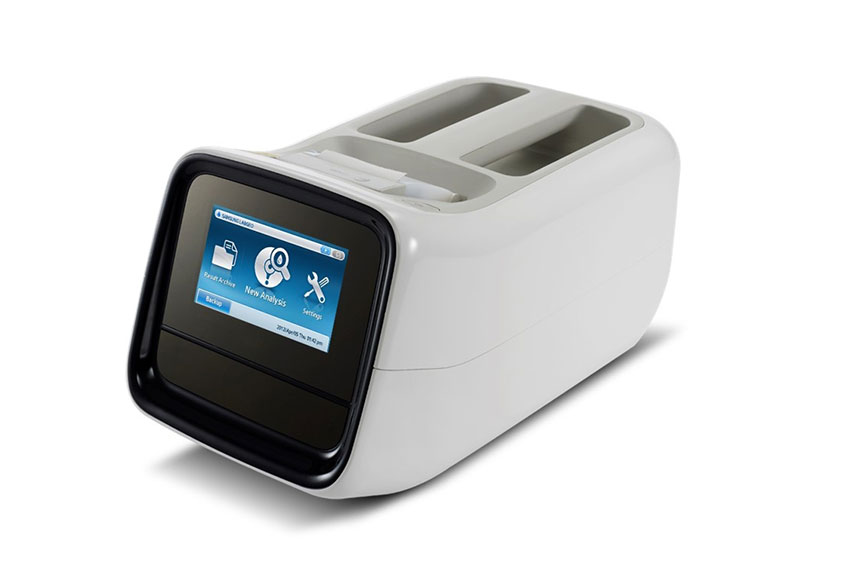 Disclaimer:
Products based on the Nexus IB10 technology (Nexus Dx, Inc., San Diego, CA, USA) described are CE-IVD-marked and hence certified and approved for use in the European Economic Area (EEA) only. Human diagnostic use of such products may be subject to local regulations. Please check for local availability and information on potential EEA-external approvals with the manufacturers.
Caution - The information contained in this communication does not constitute nor imply an offer to sell or transfer any product based on the Nexus IB10 technology as in vitro diagnostic (IVD) product in the United States of America or Canada. No product based on the Nexus IB10 technology is currently available for sale as an IVD product in the United States of America or Canada. The analytical and clinical performance characteristics in compliance with U.S. FDA medical device regulations of any Nexus IB10 product may be sold at some future point in time in the U.S., have not yet been established.